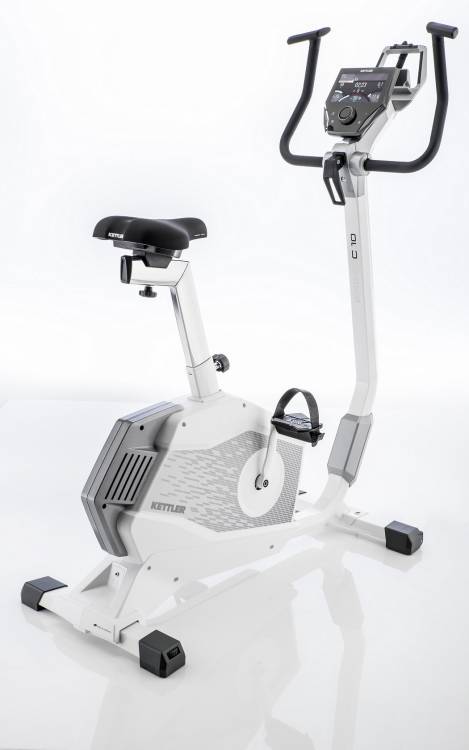 Order Within , shipping today. 1
- 20%

799.96€ *
RRP
999.95€ *
incl. VAT & Shipment
Free shipping!
Ready fr Shipment instantly
Product Code:

07689-880
Modern and versatile for more fun during the workout High-quality, resilient,...
more
Modern and versatile for more fun during the workout
High-quality, resilient, versatile: that's how the Ergo C10 describes itself. Behind it are a lot of technical features and high processing quality. The great variety of training programs keeps the motivation high and the workout interesting. The clear presentation in the premium colour--display provides information on all training relevant parameters such as rate of rotation, power and speed. The high-quality drive system in combination with the selected components achieves an excellent concentricity and absolutely smooth running.
Information: Unless otherwise stated, the delivery will be carry out free curb stone edge towards declared delivery adress.
Equipment Holder for tablets, smartphones & Co. Yes Handlebars U-shaped...
more
Product information "Kettler Ergo C10"
Equipment
Holder for tablets, smartphones & Co.
Yes
Handlebars
U-shaped handlebar with plug-on handle
Saddle
KETTLER Perfect Adjustment System with FLEXIBLE FOAM saddle top
Quick seat height adjustment
Yes
Self-aligning belt pedals
Yes
Transport rollers and height compensation
Yes
Drinking bottle cage
Yes
Forms of training
Display of personal pulse zones
Yes. Depending on the pulse zone, the display changes color
Challenge training
In this training form you train against your personal best performance
Recovery pulse measurement with fitness grade (Recovery Test)
Recovery Test
Free training without any presets (Quickstart)
Quickstart
HIT training
In this form of training, 5 high-intensity intervals are completed
IPN Coaching
After a fitness test, the device displays tailor-made programs
Pulse frequency-oriented training
Yes. Two programs are pre-installed, other programs can be configured as required
Available training programs with profiles
10 preset profile trainings. Innovative training configurator offers arbitrary extensibility
Pre-selection option
Training goals (count-down training) for training time, training distance and calories/kjoule
Displayed values during training
Display of the current brake level ("currently engaged gear")
Yes (for training in MANU mode)
Display of current performance
Power display in Watt available
Display of average values
Yes (in training and after training)
Base value displayed during training
Training time, speed, distance, pedal revolutions per minute, heart rate, energy consumption
Available training modes
Automatic training (AUTO)
Speed-independent: The user chooses a target watt value. The braking power is automatically adjusted according to the user's cadence.
Manual Training (MANU)
Speed-dependent: The user chooses between the braking levels ("gears")
Menu navigation and user settings
Number of memory locations for user-specific training
4 users + guest
Operation of the device
Extensive menu for setting and retrieving user and training data
Data that can be stored by individual users
Pers. data, pers. scope of training, last training, several individual training profiles, pers. top performances
Available languages for menu navigation
GER/EN/FR/NL/POL/RU/IT
Casing, display controls, pulse measurement
Service
Central rotary pushbutton element and 2 buttons
Display
155 x 86 mm TFT colour display
Casing
High-quality, sweat-resistant plastic casing with acrylic glass surface approx. 200 x 200 mm
Tilt adjustment
Yes, optimum viewing angle for any body size
Pulse measurement
Via hand pulse sensors or chest belt (optional)
Quality of the drive and brake system
Drive system
Longitudinal rib belt
Load spectrum
In AUTO mode: 25 - 400 watts (in 5-watt increments) In MANU mode: 20 brake steps (gears)
Brake system
Induction brake system
KETTLER treadle quality index
9
Flywheel mass
10 kg
Transmission ratio
1:10
Connectivity
Interface to external media (KETTLER World Tours, KettMaps,...)
Using APPs and KETTLER World Tours via Bluetooth
Technical specifications
Installation dimensions L / W / H in cm (approx.)
119/55/137
Device class according to DIN EN 957
Class HA
Maximum weight load
150 kg
Power supply
mains connection (230 V)
Read, write and discuss reviews...
more
Customer reviews on "Kettler Ergo C10"
Write a review
Reviews will be published after being checked