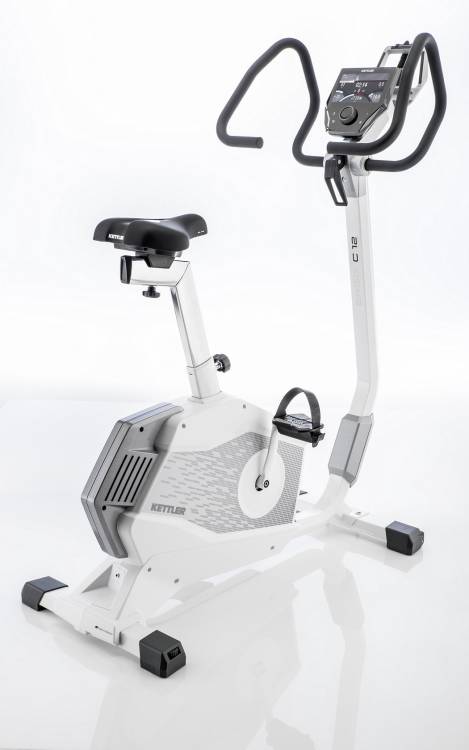 This item is currently not available!
- 10%

989.00€ *
RRP
1,099.00€ *
incl. VAT & Shipment
Free shipping!
Delivery time approx. 5 working days
Product Code:

07689-900
Alternative Artikel für Sie:
Ergometer-Training wird zur Quality-Time Der Ergo C12 ist die Luxuskarosse unter den...
more
Ergometer-Training wird zur Quality-Time
Der Ergo C12 ist die Luxuskarosse unter den Ergometern. Äußere und innere Werte vereinen sich zu einem perfekten Trainingsgerät. Das Premium-Farbdisplay lässt sich über ein Jogwheel steuern und ermöglicht intuitives Bedienen und Einstellen der gewünschten Programme. Abwechslungsreiche, moderne Trainingssysteme wie HIT-, IPN- und Challenge-Training lassen sich nach Wunsch einstellen. Der Ergo C12 speichert die Trainingseinheiten von 4 Nutzern plus Gast und übermittelt die Daten über die Bluetooth-Schnittstelle auf Smartphone, Tablet oder Laptop. Für höchsten Komfort sorgen zudem der Multipositionslenker mit Ledergriffen sowie der bequeme 3D Gel-Sattel.
Information: Unless otherwise stated, the delivery will be carry out free curb stone edge towards declared delivery adress.
Ausstattung Halterung für Tablets, Smartphones & Co. Ja Lenker...
more
Product information "Kettler Ergo C12 2017"
Ausstattung
Halterung für Tablets, Smartphones & Co.
Ja
Lenker
ergonomischer Multipositionslenker (C12) sportlicher Trekkinglenker (S12)
Sattel
KETTLER Perfect Adjustment System mit 3D GEL Satteloberteil
Schnellverstellung der Sitzhöhe
Ja
Selbstaufrichtende Riemenpedalen
Ja
Transportrollen und Höhenausgleich
Ja
Trinkflaschenhalterung
Ja
Trainingsformen
Anzeige von persönlichen Pulszonen
Ja. Je nach Pulszone wechselt das Display die Farbe
Challenge-Training
In dieser Trainingsform trainieren Sie gegen Ihre persönliche Bestleistung
Erholungspulsmessung mit Fitnessnote (Recovery Test)
Recovery Test
Freies Training ohne Vorgaben (Quickstart)
Quickstart
HIT-Training
In dieser Trainingsform werden 5 hochintensive Intervalle absolviert
IPN Coaching
Nach Durchführung eines Fitnesstestes gibt das Gerät maßgeschneiderte Programme aus
Pulsfrequenzorientiertes Training
Ja. Zwei Programme sind vorinstalliert, weitere beliebig konfigurierbar
Verfügbare Trainingsprogramme mit Profilen
10 Profiltrainings voreingestellt. Innovativer Trainingskonfigurator bietet beliebige Erweiterbarkeit
Vorwahlmöglichkeit
Trainingszielen (Count-Down Training) für Trainingszeit, Trainingsdistanz sowie Kalorien/Kjoule
Angezeigte Werte beim Training
Anzeige der aktuellen Bremsstufe ("des aktuell eingelegten Ganges")
Ja (bei Training im MANU Modus)
Anzeige der aktuellen Leistung
Leistungsanzeige in Watt vorhanden
Anzeige von Durchschnittswerten
Ja (im Training und nach Trainingsende)
Im Training angezeigte Basiswerte
Trainingszeit, Geschwindigkeit, Distanz, Pedalumdrehungen je Minute, Herzfrequenz, Energieverbrauch
Zur Verfügung stehende Trainingsmodi
Automatik-Training (AUTO)
Drehzahlunabhängig: Der Nutzer wählt einen Ziel-Wattwert. Die Bremsleistung regelt sich automatisch in Abhängigkeit der Trittfrequenz des Nutzers.
Manuelles Training (MANU)
Dreh zahlabhängig: Der Nutzer wählt zwischen den Bremsstufen ("den Gängen")
Menüführung und Nutzereinstelleungen
Anzahl der Speicherplätze für nutzerindividuelles Training
4 Nutzer + Gast
Bedienung des Gerätes
Besonders umfangreiches Menü zum Einstellen und Abrufen von Nutzer- und Trainingsdaten
Unter einzelnen Nutzern speicherbare Daten
pers. Daten, pers. Trainingsumfang, letztes Training, mehrere individuelle Trainingsprofile, pers. Bestleistungen
Verfügbare Sprachen der Menüführung
DE/EN/FR/NL/POL/RU/IT
Gehäuse, Display Bedienelemente, Pulsmessung
Bedienung
Zentrales Dreh- Drückelement sowie 2 Tasten
Display
155 x 86 mm TFT-Farbdisplay
Gehäuse
Hochwertiges, schweiß resistentes Kunststoff gehäusemit Acrylglas-Oberfläche ca. 200 x 200 mm
Neigungsverstellung
Ja, optimaler Blickwinkel bei jeder Körpergröße
Pulsmessung
über Handpulssensoren oder Brustgurt (inklusiv)
Qualität des Antriebs- und Bremssystem
Antriebssystem
Längsrippenriemen
Belastungsbandbreite
Im AUTO Modus: 25 - 400 Watt (in 5-Watt-Schritten) Im MANU Modus: 20 Bremsstufen (Gänge)
Bremssystem
Induktionsbremssystem
KETTLER Trittqualitätsindex
9,0
Schwungmasse
10 kg
Übersetzungsverhältnis
1:10
Konnektivität
Schnittstelle zu externen Medien (KETTLER World Tours, KettMaps,...)
APPs und KETTLER World Tours via Bluetooth nutzen
Technische Daten
Aufstellmaße L / B / H in cm (ca.)
119/55/137
Geräteklasse nach DIN EN 957
Klasse HA
maximale Gewichtsbelastung
150 kg
Stromversorgung
Netzanschluss (230 V)
Read, write and discuss reviews...
more
Customer reviews on "Kettler Ergo C12 2017"
Write a review
Reviews will be published after being checked