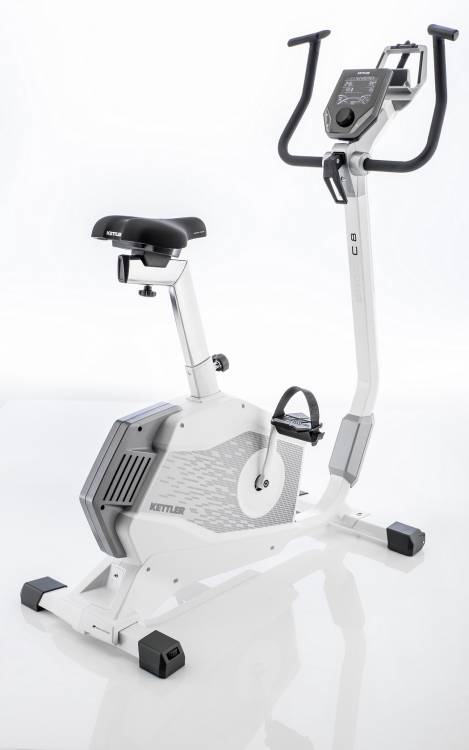 Order today, shipping on Monday 1
- 20%

679.96€ *
RRP
849.95€ *
incl. VAT & Shipment
Free shipping!
Ready fr Shipment instantly
Product Code:

07689-800
Powerful all-rounder in ergometer training If you are looking for a powerful,...
more
Powerful all-rounder in ergometer training
If you are looking for a powerful, watt-powered drive, the Ergo C8 is just right. The induction brake system provides up to 400 watts of peak power in auto mode. The wattage is displayed during the workout. The Ergo C8 also provides the athlete all the other features that make active and health-oriented workout enjoyable. The use of first-class materials and a high level of processing quality make it capable of withstanding loads of up to 150 kg.
Information: Unless otherwise stated, the delivery will be carry out free curb stone edge towards declared delivery adress.
Equipment Holder for tablets, smartphones & Co. Yes Handlebars U-shaped...
more
Product information "Kettler Ergo C8"
Equipment
Holder for tablets, smartphones & Co.
Yes
Handlebars
U-shaped handlebar with plug-on handle (C8) sport handlebar (S8)
Saddle
KETTLER Perfect Adjustment System with FLEXIBLE FOAM saddle top
Quick seat height adjustment
Yes
Self-aligning belt pedals
Yes
Transport rollers and height compensation
Yes
Drinking bottle cage
Yes
Forms of training
Display of personal pulse zones
Yes. The current of a total of five pulse zones is displayed in the training session
Recovery pulse measurement with fitness grade (Recovery Test)
Recovery Test
Free training without any presets (Quickstart)
Quickstart
Pulse frequency-oriented training
Yes. A training program regulates the brake resistor to a pulse value
Available training programs with profiles
6 profiles as well as one freely configurable profile per user
Pre-selection option
Training goals (count-down training) for training time, training distance and calories/kjoule
Displayed values during training
Display of the current brake level ("currently engaged gear")
Yes (for training in MANU mode)
Display of current performance
Power display in Watt available
Display of average values
Yes (in training and after training)
Base value displayed during training
Training time, speed, distance, pedal revolutions per minute, heart rate, energy consumption
Available training modes
Automatic training (AUTO)
Speed-independent: The user chooses a target watt value. The braking power is automatically adjusted according to the user's cadence.
Manual Training (MANU)
Speed-dependent: The user chooses between the braking levels ("gears")
Menu navigation and user settings
Number of memory locations for user-specific training
4 users + guest
Operation of the device
Pre-set menu for setting and retrieving user and training data
Data that can be stored by individual users
Pers. data, pers. scope of training, last training, one individual training profile
Available languages for menu navigation
GER/EN/FR/NL/POL/RU/IT
Casing, display controls, pulse measurement
Service
Central rotary pushbutton element and 2 buttons
Display
117 x 86 mm LC-Display
Casing
High-quality, sweat-resistant plastic casing with acrylic glass surface approx. 200 x 200 mm
Tilt adjustment
Yes, optimum viewing angle for any body size
Pulse measurement
Via hand pulse sensors or chest belt (optional)
Quality of the drive and brake system
Drive system
Longitudinal rib belt
Load spectrum
In AUTO mode: 25 - 400 watts (in 5-watt increments) In MANU mode: 20 brake steps (gears)
Brake system
Induction brake system
KETTLER treadle quality index
8,8
Flywheel mass
8 kg
Transmission ratio
1:10
Connectivity
Interface to external media (KETTLER World Tours, KettMaps,...)
KettMaps APP via headtracking function
Technical specifications
Installation dimensions L / W / H in cm (approx.)
119/55/137
Device class according to DIN EN 957
Class HA
Maximum weight load
150 kg
Power supply
Mains connection (230 V)
Read, write and discuss reviews...
more
Customer reviews on "Kettler Ergo C8"
Write a review
Reviews will be published after being checked