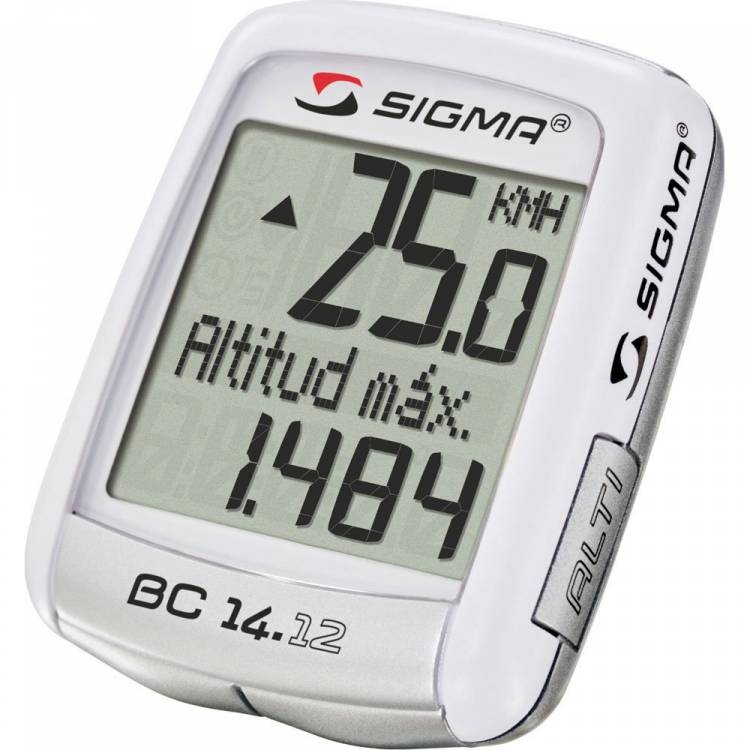 - 39%

34.90€ *
RRP
57.50€ *
incl. VAT, excl. Shipment
Ready for immediate shipping
Product Code:

04150
Relevante Daten Ausblenden der Gesamtwerte Gesamtwerte wie -...
more
| | |
| --- | --- |
| Connection type: | Wireless / Radio |
Relevante Daten
Ausblenden der Gesamtwerte
Gesamtwerte wie

- Gesamtkilometer,
- Gesamtfahrzeit und
- Gesamthöhe

werden während der Fahrt ausgeblendet.
Ein unnötiger Tastendruck entfällt somit, die Werte können schnell erfasst werden und das Display bleibt jederzeit übersichtlich.
Batteriezustandsanzeige
Information über den Energiestand
Alle Geräte ab dem BC 12.12 sind mit einer Batteriezustandsanzeige ausgestattet. Der Energiestand der Batterie des Computerkopfs bzw. STS-Senders wird hierdurch in regelmäßigen Zeitabständen geprüft. Bei schwacher Batterie, erfolgt eine frühzeitige Anzeige im Display des Computerkopfs.
Batterielebensdauer
- BC 14.12 ALTI: 1,5 Jahre

Im Lieferzustand sind die Fahrrad Computer in einem so genannten Tiefschlafmodus. Hierdurch ist die 100%ige Kapazitätsleistung der Batterie des Bike Computers garantiert.
Temperatur-Funktion
Die Modelle BC 12.12 / STS bis BC 16.12 / STS verfügen über eine Temperaturanzeige.
Sie werden somit zu jedem Zeitpunkt über die aktuelle Temperatur Ihrer Umgebung informiert.
Integrierter Speicherchip
Dank eines integrierten Speicherchips im Computerkopf werden alle Gesamtwerte und Einstellungen dauerhaft im Gerät gespeichert.
Somit müssen Sie nach einem Batteriewechsel nur die Uhrzeit neu einstellen.
Service-Intervall
Erinnerungsfunktion für die Fahrrad-Inspektion
Dank des Service-Intervalls werden Sie nach einer frei wählbaren Kilometerleistung an die Inspektion Ihres Rads erinnert.
Das Service-Intervall kann nur vom Händler ein-/ausgeschaltet bzw. voreingestellt werden. Der Händler kann die gewünschte Kilometerzahl anhand der UNIVERSAL FAST SETTING BOX einstellen.
Im Lieferzustand ist das Service-Intervall ausgeschaltet.
Vergleich Geschwindigkeit
Aktuelle und Durchschnittsgeschwindigkeit im Vergleich
Während der Fahrt erfolgt ein permanenter Vergleich zwischen der aktuellen und der durchschnittlichen Geschwindigkeit.
Dies wird dargestellt durch eine Pfeilspitze, die nach oben oder unten zeigt. Wenn die Durchschnittsgeschwindigkeit annähernd erreicht ist, erfolgt kein Hinweis mehr.
The online HTML Tidy code editor tool helps you organize your code easily in your browser without download or registration. It is absolutely free!
Diverse Merkmale Back-up-Funktion durch Speicherchip (Gesamt- und Einstellungswerte)...
more
Product information "Sigma Fahrradcomputer BC 14.12 ALTI weiss kabelgebunden"
Diverse Merkmale
Back-up-Funktion durch Speicherchip (Gesamt- und Einstellungswerte)
Batterielebensdauer (in Jahren): 1,5
Batterietyp im Empfänger CR 2032
Halterung für Lenker und Vorbau
Wasserdicht
Sonstiges
Automatischer Start/Stopp
Batteriezustandsanzeige Computer
Geräteeinstellung über UFSB
Hintergrundbeleuchtung
Kontrast einstellbar
Service-Intervall
Sprachen einstellbar: 7
UFSB-kompatibel
Umschaltung kmh/mph-Modus
Gesamtwerte
Gesamtfahrzeit
Gesamthöhenmeter bergauf
Gesamtkilometer
Fahrrad-Funktionen
Aktuelle Geschwindigkeit
Durchschnittliche Geschwindigkeit
Fahrzeit
Maximalgeschwindigkeit
Tageskilometer
Vergl. aktuelle Geschwindigkeit zu Ø-Geschwindigkeit
Zeit-Funktionen
DATA CENTER-Funktionen
Drucken aller Auswertungen
Einzelspeicher-Auswertung
Geräteeinstellungen über PC
Kalenderfunktion
Notizfunktion
PC-Schnittstelle über Docking Station (opt.)
Statistische Auswertung
Synchronisationsmanager
Übersicht der Gesamtwerte
Vergleich von 2 Einzelspeichern
Read, write and discuss reviews...
more
Customer reviews on "Sigma Fahrradcomputer BC 14.12 ALTI weiss kabelgebunden"
Write a review
Reviews will be published after being checked