Hardtail or Fully? You too can make the right decision when buying your mountain bike

Nothing comes closer to flying than a wild ride on your bike, to where you really want to be. Just dive somewhere in the here and now, maybe all alone. Just forget about time and breathe, even a little harder. Who knows what it feels like to review the day in the evening, when it's saturated with adventure, breaking down your own boundaries and a subsiding dose of adrenaline?! Who, if not us, the passionate bikers? The courage to do everything a little differently, to finally tackle it, is what distinguishes us. MTB also stands for motivation, temperament and determination. This pushing of boundaries can mean something completely different for everyone: Sometimes it means just getting up and sweating, but for you it could go much further …
The most important thing for you is to think carefully about which trails you prefer, because this will determine whether a hardtail or a full-suspension bike is better for you. With a hardtail, the rear part remains stiff, i.e. hard. With a hardtail you don't need a rear shock, a sprung front wheel is sufficient. Besides titanium and steel, carbon and aluminium are the preferred materials. Your hardtail should therefore weigh a maximum of 13 kg. Long day trips are no problem, and the bike requires less maintenance.
Hardtail vs. Fully
Hardtail
Fully
✅ Low purchase price
✅ Low weight?
✅ Less
✅ maintenance required
✅ Full suspension reduces shocks
✅ More drive power?
✅ Full control off-road


❌ Less speed
❌ Less driving power?
❌ Less stability
❌ Higher purchase price
❌ Heavier?
❌ More maintenance-intensive
The hardtail is best suited for dirt roads, moderate downhill and extended day tours.
Downhill, racing and alpine cross
In addition to the distinctions between hardtail and fully, there are also the following mountain bike types
Cross Country Bikes, Marathon Bikes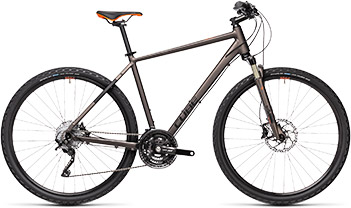 These bikes are mainly used in cross-country races. They are very light (between 10 kg and 13 kg), have high-quality components and are at home on forest paths, dirt tracks and meadows. Good manoeuvrability and power transmission are the main features of a cross-country bike. The suspension travel is approx. 100 mm – 120 mm.
Downhill Mountain Bikes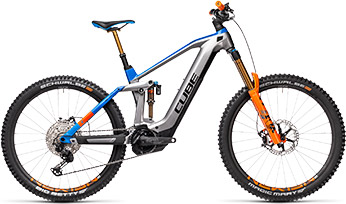 Challenging trails with steep inclines are easy for the bike and obstacles can be overcome without any problems. A low steering angle and a fully retracted saddle ensure an optimal centre of gravity. Since the frame has to be very stable, the bike is no lightweight at 18 kg and climbing hills is not very comfortable on a downhill mountain bike. Thick tyres with good grip provide the necessary grip. The suspension travel is approx. 180 mm – 250 mm.
All Mountain Bike, Trail Bike and Enduro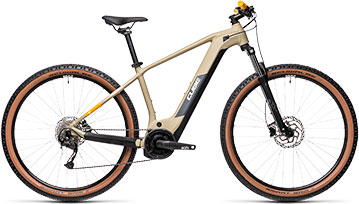 For almost all uses, the all-mountain bike is just right. Especially in the mountains (e.g. when crossing the Alps) and on long tours in the flat country, you will be thrilled by the equipment. A lightweight construction (approx. 10 kg -14 kg) makes the bike the perfect outdoor partner you can always rely on when riding uphill, downhill and even for small jumps.
With many models, you can lock or reduce the suspension travel to make it easier when riding uphill. The suspension travel is approx. 120 mm – 160 mm. Our Enduro bikes are designed for an even wider range of use. Faster descents as well as higher jumps and easier hill climbing can be mastered with these bikes. The suspension travel is approx. 140 mm – 180 mm
Freeride Mountain Bike
The technician among the mountain bikes! Extremely steep terrain, complicated obstacles and long jumps are no problem here. It is a mixture of downhill and cross-country bike. Very stable and somewhat lighter than a downhill bike. The suspension travel is approx. 165 mm – 200 mm.
---
Fat bike – just have fun
Whether snow, sand or loose surfaces, you can usually recognise a fat bike by its thick and wide tyres. They are twice as wide as normal MTB tyres (4 – 4.8 inches). This type of bike does not have suspension. A little less air in the tyres provides the necessary suspension power.
---
Dirt Jump Bike
As the name implies, this variant mainly concerns the cycling sport of jumping with the bike in order to perform various so-called "tricks" in the air. Meanwhile, the boundaries between the hardtail and fully variants are beginning to blur. We have therefore only listed the usual classifications here, as there have hardly been any noteworthy developments in the transitional area so far.
How interesting do you find this article?