Bad weather mountain biking – what do I need?

For many people, rainy weather means the end of their beloved outdoor activities. The wind starts to blow, the sky darkens and it gets cold. If you want to pursue your hobby in wind and weather, you need the right equipment. We've all heard the saying: there's no such thing as bad weather, only unsuitable clothing! And we're absolutely rightAnd that's absolutely correct. Speed through deep puddles or fight the snow and slush, reconnect with nature and feel alive. We'll give you a few tips on how to master any slope even in bad weather.
Mudguard
There are numerous ways to protect yourself and your bike from splashing water or dirt. Mountain bikes rarely have a fixed mudguard, which is why so-called mudguards are used. They can be easily removed when the weather improves. In bad weather, a mudguard is indispensable and gives the rider more comfort and protects the bike's components and clothing.
The right outdoor clothing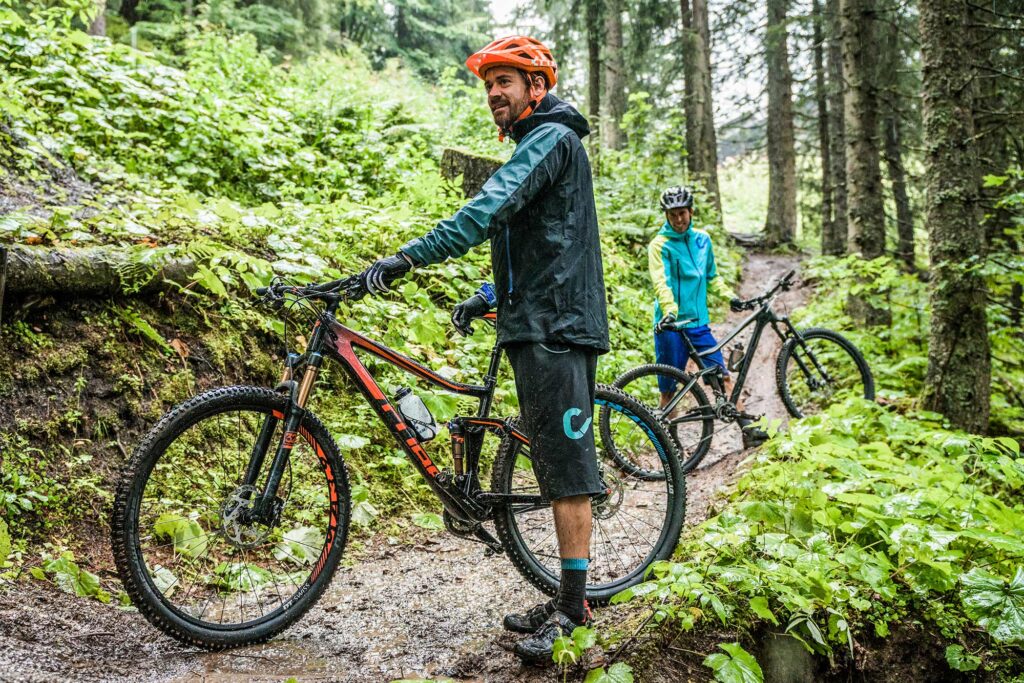 A decent rain jacket and rain pants are standard equipment for any outdoor activity. They should be waterproof and breathable so that you don't start sweating immediately, even during strenuous activity.When buying, it is important to know whether you prefer to stay completely dry, for example on your daily ride to the office, or whether you can jump into the warm shower right at home after the tour and one hundred percent water resistance is not so important.Dirtsuits offer seamless protection from any weather because they consist of a continuous rain suit. Especially for enduro or all-mountain use, you will appreciate the all-round protection and even on longer tours or the biggest mud fight, you will stay absolutely dry.
Mountain bike goggles
Protective goggles are indispensable. Flying stones or mud impair your vision and can be dangerous to the eye. Sunglasses alone will protect you immensely. If you wear a cross-country or trail helmet, it's best to use functional glasses with clear lenses. With a full-face helmet, on the other hand, it's better to use MTB goggles. With special tear-off lenses (several layers of thin, clear film), you can produce an immediate clear lens by tearing off the film several times without having to stop. Another system is the roll-off system. Here, a roll of clear film is placed in front of the lens and by pulling a cord, the film is rolled on to provide clear vision. It is important that the goggles still fit when worn with a helmet and that the lenses are not too dark, as in gloomy weather the view could be further restricted
MTB shoes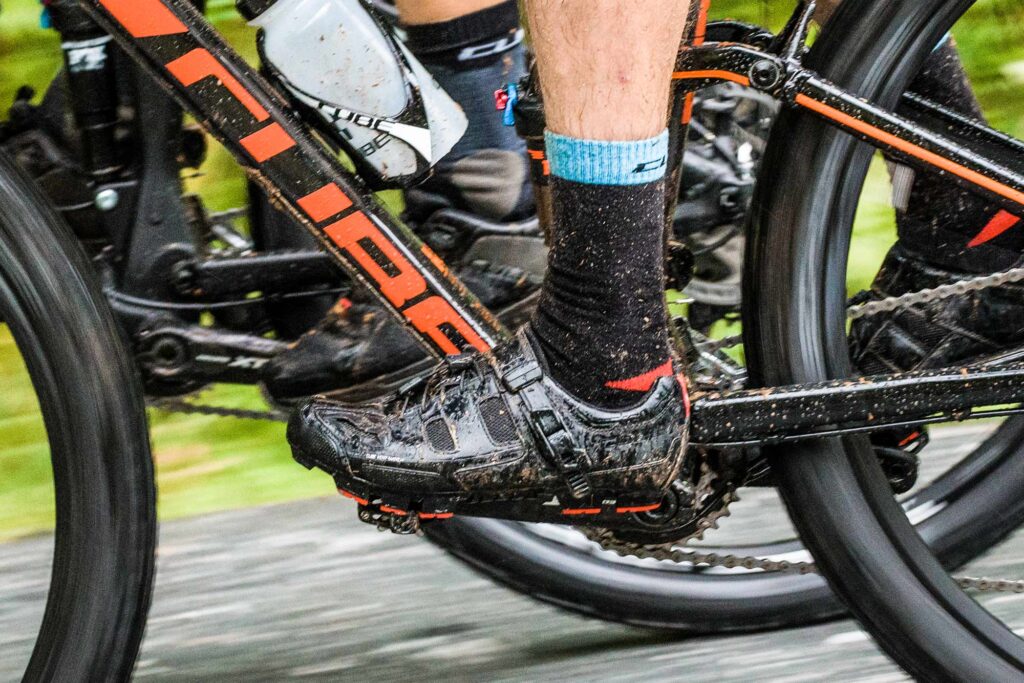 The right footwear ensures unrestricted grip and a waterproof membrane keeps your feet dry. For winter use, a lined MTB shoe is a good choice. In challenging terrain and Enduro, it is not uncommon to have to hike or push the bike at times. For this reason, the soles are usually flexible and have cleats to offer full safety even on muddy or wet ground. Downhill or freeride shoes, on the other hand, offer a good compromise between stiffness and flexibility.Protection is paramount and optional SPD systems (clipless pedals) are recessed into the sole, as in enduro shoes, so as not to interfere with running. Crosscountry shoes are light and stiff. They are very similar to road shoes and are all SPD-compatible. The stiff sole makes the shoe highly effective and reduces energy loss when pedalling. For each terrain, you therefore need a different shoe that has to fit optimally.
Optionally, you can also use waterproof overshoes. These are simply pulled over the normal trekking or street shoes and also protect against moisture.
Waterproof outdoor backpacks or saddle bags
Waterproof rucksacks or saddle bags are ideal for transporting equipment or snacks cleanly and dryly. It's a good idea to take a change of clothes with you, just in case, so that you're well equipped for extreme weather changes.
Gloves for mountain biking
Cold and wet hands are not only unpleasant, but also dangerous. With the right gloves, you can maintain optimum grip even in wet conditions. With cold fingers, you may no longer be able to feel the brake lever properly and thus misjudge the braking process.An optimal fit and material adapted to the weather are crucial for a good grip and a comfortable tour through rain and wind.
Waterproof socks
Once the feet are cold and wet, the tour is over for many. As a preventive measure, many outdoor fans use waterproof socks. They protect against the cold and wet even if the shoes are not waterproof.
Caution is advised
For beginners, it is best to take routes that you already know. Don't overestimate yourself and plan your tour well in advance so that there are no unpleasant surprises. After the mud fight, you will probably need a hot shower and the bike a little care and attention.
How interesting do you find this article?