E-bike motors in comparison

The essentials about the hearts of e-bikes and pedelecs
The motor is, so to speak, the heart of every electric bike. Therefore, you should by no means "let yourself go lumpen" here. Some discounters advertise cheap e-bikes, but honestly, how true can such promises be? If you want to promise your customers real pleasure and long-lasting quality, you will not withhold the decisive facts from them, and that includes the offer from a certain price range.
Quality pays off, and we at MHW have professional manufacturers on board who really deliver what they promise: the best quality and the best performance. Of course, many manufacturers offer top quality, whereby each one sets its own priorities and orients itself towards other ideals in terms of development. This benefits every e-bike buyer, because it opens up a broad, growing market that leaves no individual wish unfulfilled. Today, we can say with conviction that there is a perfectly tailored drive for every need, and this is exactly what we now want to address in concrete terms.

Important key data regarding the performance of e-bike motors
This concerns, for example, the maximum speed and the weight. Also relevant are the power delivery and the throttling effect. We also want smooth handling that is a pleasure to ride, and we are happy to do without an unpleasant background noise emanating from a groaning motor.
The weight of the motors is around two to four kilograms, plus some drive components. Accordingly, an e-bike will never be able to beat a normal bicycle – at least in terms of weight – but it doesn't need to. After all, e-bikes / pedelecs score on completely different levels.
Bosch motors are particularly popular, scoring points above all for their long service life and smooth functionality. But to highlight the individual advantages of the manufacturers, we will go into more detail.
What are the main differences between e-bike motors?
There are huge differences in their type and performance. Depending on the manufacturer, special performance requirements are set and variants are offered.
Bosch, Yamaha, Shimano and Brose are and remain the front-runners in the field. You can't really go wrong with them, especially because these manufacturers are constantly developing and getting the best possible for consumers. One advantage of the tough competition is the best possible result for every e-biker and pedelec rider.
The motors differ, for example, in weight, power, dynamics, the supportive and spontaneous pressure, the noise and also the size. According to these attributes, they are therefore specifically suitable and applicable for certain purposes.
Bosch, for example, presents the most powerful top motor with its Performance CX GEN4. With a maximum torque of 75 Nm at a pedalling assistance of up to 340 %, the motor reacts immediately and extremely powerfully without delays. Despite this power, the weight is very low, as is the size, which has been reduced by up to 50 % compared to its predecessors. Bosch thus offers new possibilities to perfectly install this heart.
Yamaha, on the other hand, has developed a multi-sport drive, which mainly enthusiasts of e-trekking and e-mountain bikes can look forward to. A completely new feature is the Quad Sensor System developed by Yamaha, whereby different sensors ensure that the motor always provides optimal support according to the different riding situations. This also opens up new possibilities in terms of use. Are Yamaha engines the perfect all-rounders on the way? We can be curious ..
More data on the Bosch motors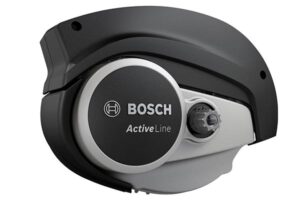 Active-Line
The Active-Line variant was developed especially for the e-bike rider who likes it comfortable. The reliability of this smooth motor stands out and gives the rider a high level of safety.
Data: maximum torque of 50 Nm with a motor output of 250 W, results in an additional assistance of up to 250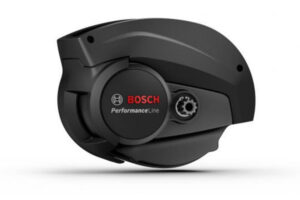 Performance Line
The Performance Line is suitable for all e-bikers who don't like to be tied down and want a certain amount of leeway. With the all-rounder from Bosch you're on the right track, because this classic not only offers a powerful drive, but above all sportiness and versatility.
The powerful drive achieves up to 63 Nm along with 275% additional drive support, also with 250 W nominal power
Performance Line CX
The Performance Line CX is more suitable for all e-bikers who want even more: Higher, faster, further! The "bull" among the motors – with impressive dynamic acceleration, whose performance values speak for themselves:
Maximum torque 75 Nm with 300% continuous powerful support, even at high cadence.
Wide range of Bosch products
The wide range of Bosch products is perfectly coordinated, so that the different drive systems are compatible with any Wh output of the batteries and various controllers.
You have the choice between 400 and 625 Wh as well as a frame or rear rack battery. With Bosch, you will never have to compromise on durability, energy density and mileage – Bosch achieves top values in all these categories.
Every Bosch system supports you with an on-board computer. You are kept up to date on the range, speed and cadence. Another advantage is that it is easy to read – even in the sunshine or on night rides.
Bosch's controllers are so sophisticated that you are guaranteed to reach your optimum efficiency range without the controls preventing you from riding safely. Simple and intuitive, down to the smallest detail.
We have precisely these bikes in our repertoire that are equipped with Bosch drive systems. These include: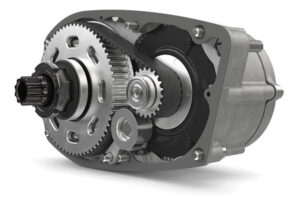 Brose
Brose is also in the boat. Due to their many years of experience, the developers of Brose motors could not resist getting on the e-bike horse. A good decision, because their skills are not only noticeable in their innovative drive concepts.
For example, Brose offers extremely quiet motors that can also be perfectly integrated into the frame. And there is no shortage of compatibility here either.
Shimano
In the meantime, we can look forward to Shimano motors, but also to batteries with 418 or 500 Wh and various bicycle computers.
For lovers of city rides as well as other rather relaxed tours, the drive types of the STEPS E6000 systems are particularly suitable. With coaster brakes, you get intelligent work support that also offers a high level of comfort.
Those who prefer a sporty ride will be happy with the STEPS E8000, a lightweight motor weighing less than 3 kg. Three support levels can be selected: Eco, Trail and Boost, which are controlled via a so-called Firebolt switch.
Shimano scores with high-quality components, state-of-the-art technology and small refinements, such as a colour display.
Yamaha
Now to the developers at Yamaha, who strive for a special philosophy, which is to merge with technology. The Yamaha team has achieved this by designing a very favourable centre of gravity for the centrally located powerful mid-engine, which ultimately allows them to offer a natural riding experience that leaves nothing to be desired. The four support levels are called +Eco, Eco, Std and High. The energy of the motor is transferred directly to the crankshaft.
Those who want improved programme control and optimised handling, but also freedom in the form of great manoeuvrability, will be pleased with Yamaha's optimisations, after all, the potential buyer is offered an increasingly wide choice. And to give you an example: 3.1 kg weight with 5 riding modes and up to 320% assistance makes the heart beat faster, doesn't it?
In addition, the modern design and an overall visually outstanding result can be decisive for you. Meanwhile, a robust LCD display is also a big plus, because it allows even off-road cyclists to expose themselves to all kinds of weather and choose a fifth riding mode (EXPW) in addition to additional customisable setup options.
How interesting do you find this article?
[Votes:

13

| Average:

3.5

]