Information on the e-bike battery

A brief overview – important facts at a glance:
Basics: When buying a rechargeable battery, look for the GS mark. This mark ensures that you will enjoy using your battery and that all safety regulations have been observed.
A rechargeable battery costs several hundred euros, depending on its storage capacity, which is expressed in watt-hours (Wh). The capacity can range from 250 Wh up to a maximum of 750 Wh at present.
The more powerful the battery, the greater the range. If your battery is not going to be used for a long time, remove it and store it in a cool, dry and half-charged place.
All you need to charge it is a standard power socket.
The charging process itself takes one to several hours, depending on the power of the charger.
The lithium-ion battery
The long-life lithium-ion batteries are predominantly used for pedelecs and e-bikes because they can store more power with their high energy density and relatively low weight. Only after a few hundred charging processes can the capacity decrease somewhat. The batteries that last longest are those that have always been charged in the range between 20 and 80 percent. It is advisable to never run them completely empty and to charge them again completely even after a short period of use.
My lithium-ion battery is brand new – What's the best way to do it?
You should fully discharge a lithium-ion battery three times before using it for the first time. Once it is in use, you should get into the habit of fully charging it after every ride, no matter how full it may be.
Questions about the e-bike battery in general
Charging the battery correctly – but how?
Batteries must only be charged with the appropriate charger, otherwise irreparable damage may occur and any warranty and guarantee claims may be invalidated at the same time.
How often can a battery be charged?
Roughly speaking, about 55,000 kilometres can be achieved in the course of a "battery's life", provided it is properly maintained.
How long do I have to charge it?
The charging time depends on the capacity of the battery and the performance of the charger: at best, a half charge takes about an hour. An empty battery, on the other hand, needs up to 3.5 hours on the charger until it is fully charged.
What should I bear in mind in winter?
Cold weather reduces battery performance, so it is important to insert the battery, which has been charged at room temperature, into the e-bike just before setting off. In the meantime – as long as the battery is not in use – it should be stored in a dry, cool place with 20 to 80 percent charging capacity.
What is the best way to store and transport my e-bike battery?
Your battery will feel most comfortable if it is stored in a dry environment, protected from direct sunlight and at a room temperature of around 15 to 20 degrees Celsius. The ideal charge level is between 20 and 80 percent. Charging should take place at room temperature. When transporting the battery, remove it and store it safely.
What can I do if the battery is dirty?
Never use harsh cleaning agents! A damp cloth is sufficient. Take the battery out of its holder and wipe it clean. Do not neglect the connector terminals, which should be cleaned of dirt from time to time.
Where can I have the battery repaired?
A defective battery will almost always need to be replaced because it is a complex storage unit. If you are not sure, have it checked by a specialist dealer. If the battery is definitely broken, your dealer can dispose of it accordingly.
What happens to a used battery?
An old battery that has only just reached 70% of its former capacity should be returned to the manufacturer. It will be disposed of properly and the raw materials can be recycled. Refreshing is also sometimes possible, but this should only be done by an expert.
How to treat the battery correctly?
Extreme temperatures are one of the battery's enemies. If you bring it back to your warm home after a drive through a breathtaking winter landscape, give it some time to "acclimatise" before you charge it. However, you don't need to worry if you use it in winter, because as long as you drive, it will be reasonably warm.
If the outside temperature is very low, you can minimise the loss of capacity by connecting the battery directly from the socket to the e-bike and immediately start riding with maximum support. This also guarantees a long range for a long time.
If I run out of power on the road
Head for the nearest petrol station or pub!
More and more bicycle dealers, petrol stations or rest stops and restaurants offer recharging facilities, often even for free. Otherwise you can get electricity for your battery by inserting coins. So always take a few coins with you if you have planned long tours.
What types of batteries are there?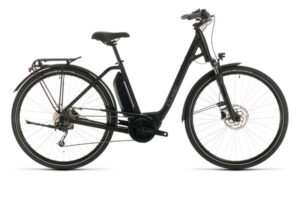 Frame battery
The frame battery is usually more compact and is located close to the bottom bracket on the down tube or seat tube. It has a low centre of gravity and can easily be stowed in a backpack or pannier. It is the most commonly used.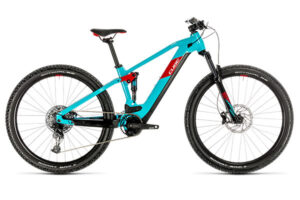 Fully integrated battery
The fully integrated battery is visually unobtrusive. Protected inside the down tube, it is hardly noticeable. Often it is hardly recognisable whether it is an e-bike at all.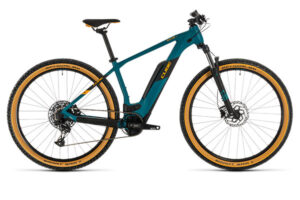 Semi-integrated battery
The semi-integrated battery blends perfectly into the appearance of the e-bike – the stability of the frame remains unaffected. The difference here is that the frame has to be designed a little wider as a result.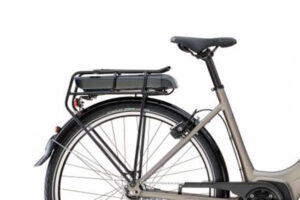 Carrier battery
The luggage carrier battery is the simplest way to integrate a battery into an e-bike. The frame design is not influenced by the battery. Downtubes remain more filigree and the step-through remains free for low riders.
The battery – the stronger the better?
Here you have to differentiate between the type of rider you are and what your e-bike will be used for.
With e-racing bikes, for example, the motor only helps with acceleration and on inclines. Because the motor is therefore only used occasionally, the power of 250 Wh is completely sufficient. The situation is completely different for e-bikes whose batteries are constantly under demand, such as e-mountain bikes.
The watt hours are quickly reduced when a few metres of altitude are accumulated, as well as when pedalling over ramps and through rough terrain. In this case, up to 750 Wh is not too much.
The range as well as sustainability and recyclability will determine the further development of batteries in the future. With the steadily growing demand, we can be sure to look forward to more and more possibilities and refinements.
Memory effect in rechargeable batteries
If only partial discharges take place over a longer period of time, the battery remembers this behaviour and then only provides the amount of energy that was previously needed – in other words, the capacity has been reduced overall. Deep inside the battery, this process results in a reduced voltage of the battery cells, making them partially unusable.
You can prevent this detrimental chemical process if you follow our charging recommendations. However, if it has already happened, we recommend that you fully charge the battery in up to five cycles and then heavily discharge it again – with this tip, you can reverse the memory effect that may have already occurred. However, if this does not work, we recommend changing the battery.
How interesting do you find this article?